Computerized anesthesia
Plaza Beauty Center proudly presents the computerized anesthesia
We offer you an innovative solution for the painless hyaluronic fillers treatment, computerized anesthesia CALAJECT.

The innovative, computer-guided anesthesia CALAJECT enables completely painless, safe and effective anesthesia. Perfect control of dosing and less application of anesthetics, prevent the occurrence of pain and swelling at injection site tissue.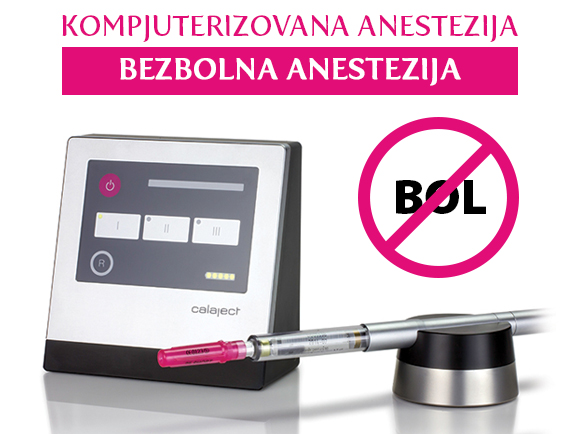 COMFORTABLE AND COMPLETELY PAINLESS EXPERIENCE FOR PATIENTS, WITHOUT SWELLING AND SWOLLEN LIPS AND TISSUES

Immediately after the treatment you can drink and talk normally, and return to daily activities.

COMPUTERIZED LOCAL ANESTHESIA

Applying of the local anesthetic solution in order to achieve absolute painlessness work later on is, for most patients, the biggest cause of fear. With the advances in modern technology, this problem is solved to a great extent.

The computerized injection allows the anesthetic fluid to be injected gently, smoothly and almost imperceptibly for the patient. This method of administration of local anesthetic is of great help in particularly sensitive regions of the mouth, and enables deaden of teeth without the side effect of anesthesia on the lips or tongue.
ASK THE DOCTOR
We respond within 24h
They said about our
center
With the help of your team, beauty is really not fleeting ... Thank you from the bottom of my heart!!!
Phenomenal! Wonderful ambience, kind and professional girls...
Thank you for today's treatment and absolutely all praise for the work and especially for the staff. See you again in February...
This is the first time I've been introduced to the topic of hair removal. I had the freedom to dial your number, Jelena answered. All praise because the girl herself explained in a pleasant conversation what I didn't know I should ask myself. Thank you so much for that! Jelena is someone who encouraged me to finally solve this. Thanks for your professionalism. I will be happy to share my experience with people who are important to me.
Beautiful salon, fantastic staff, special praise for Ana who is a really fantastic beautician, works fast and great, is open for consultations, and with her advice the results are immediately visible! I can truly say that Ana is from now on in charge of taking care of my face and body! Best regards!
Beautiful! Stunning! Comfort, ambience and wonderful staff that can only be experienced and evoked live! Love it!
A beautiful and comfortable environment . Highly recommended. Love it.